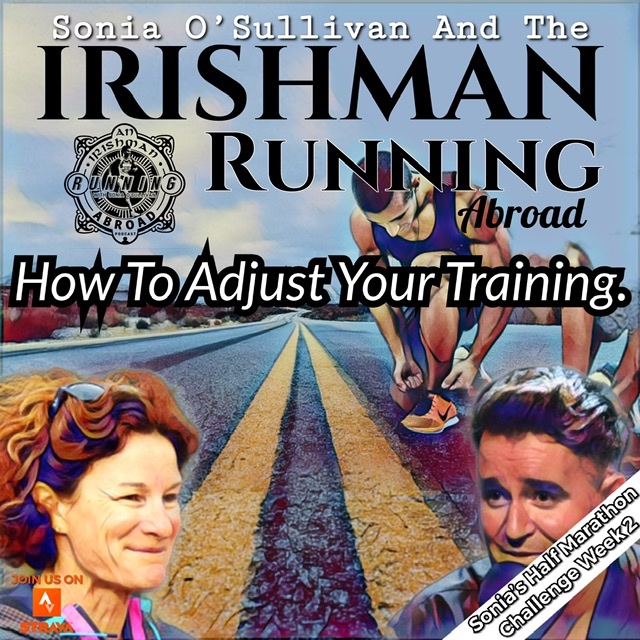 After week one on the road to the Antrim Coast Half Marathon Sonia asks us to review and adjust based on what we have learned. We dial in our team captains and a few squad members to get their takes on how the plan felt. Then coach Trevor Cummins jumps on the Irishman Abroad LiveLive (00447543122330) to advise us on what to do with the cross-training days within the plan. Sitting on the deck of her team house in Oregon, Sonia breaks down how to assess if your paces are accurate and why erring on the side of caution will always benefit you in a training block such as this. Scheduling the runs was a concern for both of our captains Neil and Aisling last week but in the end it was Sonia who struggled to fit in her Sunday long-run while coaching at the US National Track Championships. We get a little update on how Union Athletic Club faired over the weekend.
Over the last few weeks Sonia has drilled home the importance of the easy run and the need for a stark differential between these runs and our hard session efforts. I put a few questions to her form the listeners in relation to this including whether our heart rate is the number one guide for keeping the easiest runs where they should be. Finally, our supports get to enjoy the final kick montage and extensive episode notes containing Sonia's week 2 plan. Please don't hesitate to contact us if you have any questions in relation to the training or other running matters.
Hear the whole conversation? Get Sonia's full training plan? Go to www.patreon.com/irishmanabroad & get access to tonnes of bonus content, weekly episodes, mini series and interviews from the Irishman Abroad.
Want to submit a question or suggest a guest/topic? There's all manner of easy options.
1. Irishman Abroad Live Line: You can now get in touch with us and feature on our shows by sending your WhatsApp voice note to 00447543122330.
2. Email Jar and Sonia directly on irishmanabroadpodcast@gmail.com.
For updates on future episodes and live shows follow Jar here on Twitter, visit www.jigser.com or subscribe to the YouTube channel here.
(Disclaimer: All materials contained within this podcast are copyright protected. Third party reuse and/or quotation in whole or in part is prohibited unless direct credit and/or hyperlink to the Irishman Abroad podcast is clearly and accurately provided.)