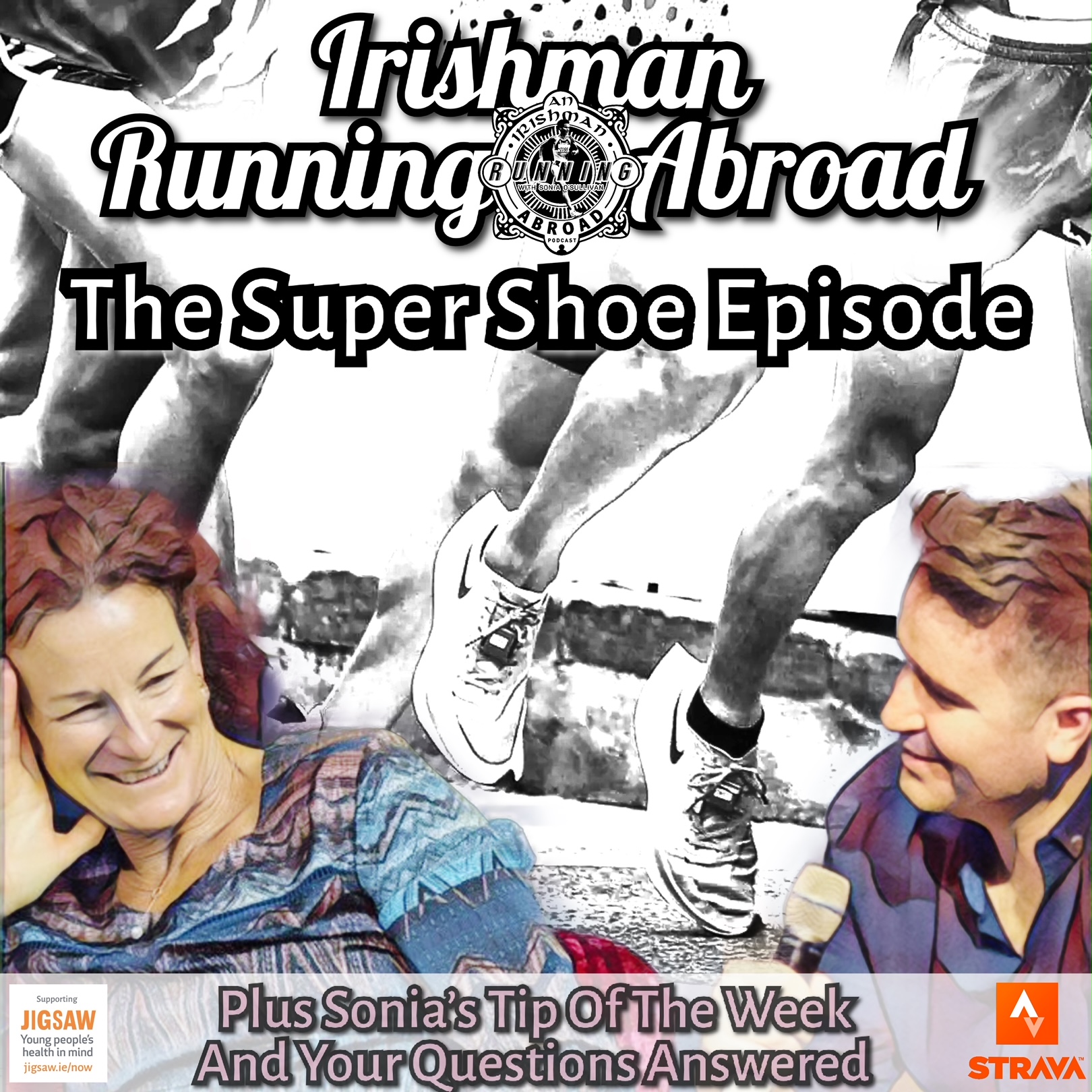 Technological doping, the greatest thing since the stopwatch or the greatest fad since fidget spinners! Call it what you like, super shoes are changing running one carbon footplate at a time. Jarlath doesn't have a pair. Sonia has a pair in every city she visits! Jarlath has a lot of questions. Are these shoes intended for the slow runner? Can they be harmful? Do they really work? Why are they so damn expensive? And if they cost that much, surely we should be allowed to train in them? Sonia has the answers and few insights into what the elite athletes think of them. We also go round the parishes for Sonia's runs of the week, open the mailbag for an alternative view and get Sonia's one thing you should be doing in her now legendary "tip of the week". Support the creation of this show so that it continue to be weekly by visiting Patreon.com/irishmanabroad and in return you'll get double the episode length and detailed episode notes with even more helpful advice.
To hear every episode in full and to gain access to the entire back-catalogue of over 500 Irishman Abroad episodes that are not available on iTunes for just the price of a pint every month visit 
www.patreon.com/irishmanabroad
Supplementary research provided by John Meagher.
The Irishman Abroad Liveline is now open. You can now get in touch with us and feature on our shows by sending your WhatsApp voice note to 0044 7543 122 330. Why not pose a running question to Irish Olympic Legend Sonia O'Sullivan or ask our America Correspondent Marion McKeone her thoughts on a current talking point Stateside? Of course, if you have an issue with traffic or elephants on the loose in your area, Jarlath can do his best to sort that out too.
Our charity partner is
jigsawonline.ie
. In these tricky times, Jigsaw provides a range of resources, advice and care for your people to help them strengthen their mental health and the skills needed to navigate life. Please visit their website and consider making a donation.
Disclaimer: All materials contained within this podcast are copyright protected. Third party reuse and/or quotation in whole or in part is prohibited unless direct credit and/or hyperlink to the Irishman Abroad podcast is clearly and accurately provided.