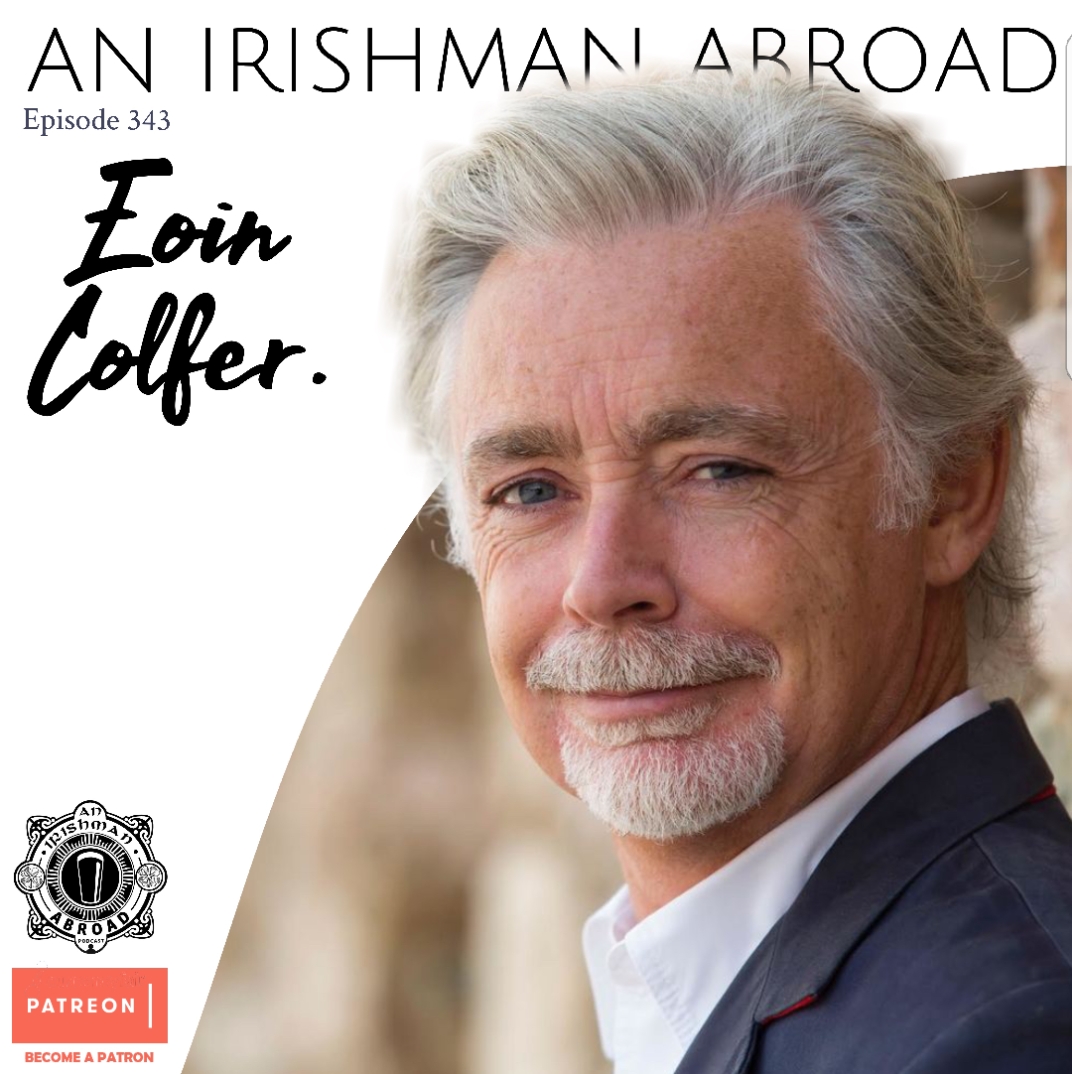 Premium
*To access this episode and to hear all of our episodes in full each week, visit www.patreon.com/irishmanabroad and sign up for just the price of a pint every month. In return, you will gain full access to our entire archive of all of the podcasts we have ever released including - An Irishman In America, Men Behaving Better and An Irishman Behind Bars. If you come over and join in the first two weeks of August 2020, you will be given something very special as an additional thanks that won't disappoint.*
This week, writer Eoin Colfer joined Jarlath for a rare and in-depth conversation about his life and work.
Going full Leprechaun to get Artemis Fowl onto the desk of an agent in London (37:00), how writers like him are comfortable in isolation (4:00) and the time he tried to write a storyboard while Bono sang at him (52:00) - this episode covers a lot of ground.
From why he had a genuine fear of being executed during his time in Saudi Arabia (29:00) to the shocking turn of events which saved the day at one of his book signings (1:02:00) and how he joined an internet group set up to stop him from writing The Hitchhiker's Guide to the Galaxy (56:00) and much more, this conversation with a true gent and legend of Irish literature might be just what you need this week. 
To hear Eoin's terrifying parachute jump story, the hilarious tale of the time he fell out the back of a van as a child, his thoughts on the challenge of writing for adults versus children, the mysterious theft of his very own Don Johnson jacket from the set of Miami Vice and much more, become a patron of An Irishman Abroad for just the price of a pint on www.patreon.com/irishmanabroad. You will also gain access to the entire back-catalogue of almost 250 Irishman Abroad episodes that are not available on iTunes. 
You can also gain access to the entire Irishman Abroad archive of episodes through our iPhone and Android Apps. Download the Irishman Abroad Android or iPhone apps for free using the links below.
https://apps.apple.com/ie/app/an-irishman-abroad-by-jarlath-regan/id1101165812
https://play.google.com/store/apps/details?id=irishman.jarlath.com.anirishmanabroad&hl=en_IE
For updates on future episodes and live shows follow @jarlath on Twitter, visit www.jigser.com or email the show directly on irishmanabroadpodcast@gmail.com.
Disclaimer: All materials contained within this podcast are copyright protected. Third party reuse and/or quotation in whole or in part is prohibited unless direct credit and/or hyperlink to the Irishman Abroad podcast is clearly and accurately provided.