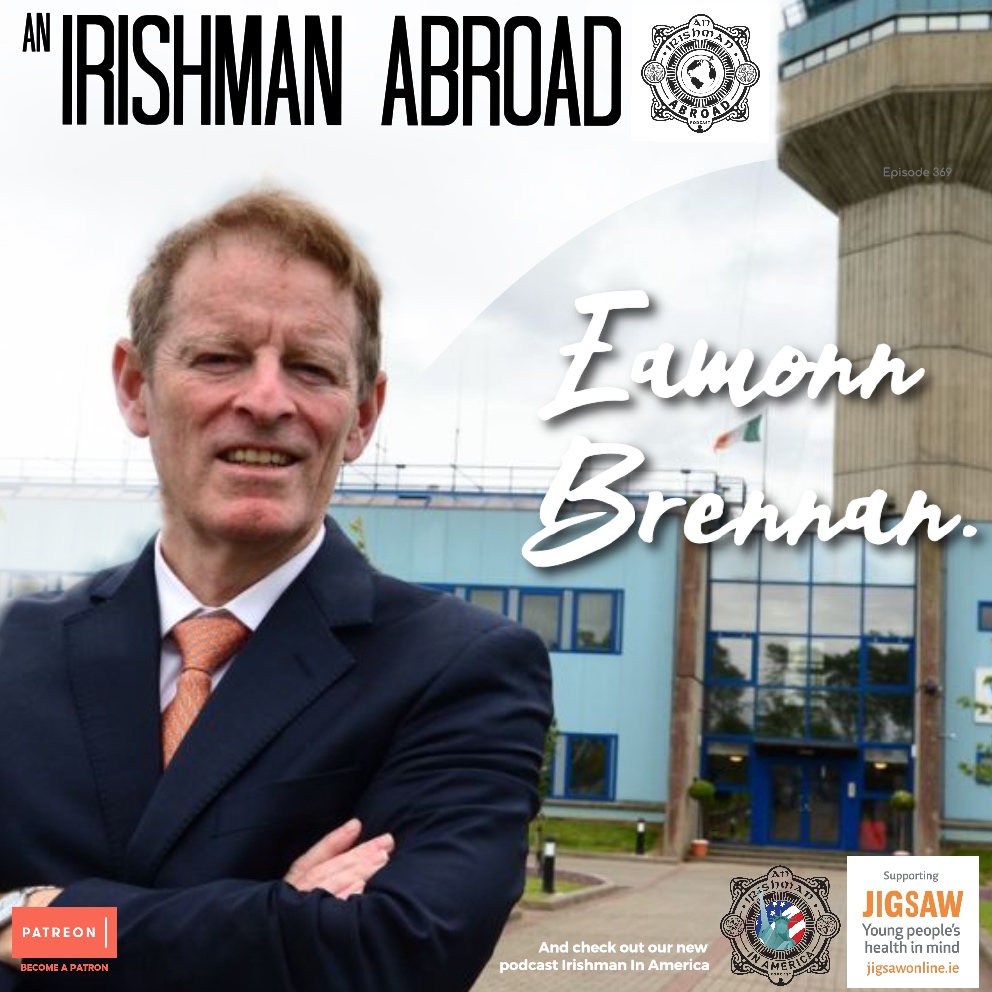 Premium
*To access this episode and to hear all of our episodes in full each week, visit www.patreon.com/irishmanabroad and sign up for just the price of a pint every month. In return, you will gain full access to our entire archive of all of the podcasts we have ever released including - An Irishman In America, Men Behaving Better and An Irishman Behind Bars. If you come over and join in the first two weeks of August 2020, you will be given something very special as an additional thanks that won't disappoint.*
This week, Eamonn Brennan tells Jarlath about the challenge of controlling the skies over Europe during the biggest crisis the aviation industry has ever seen. We hear the story of how he went from growing up and studying in Galway to becoming one of the most important people in global travel and business.
Eamonn discusses his journey towards winning the election for the Director General of Eurocontrol and the real reason why Ireland is so crucial to global aviation (15:00). With a wealth of experience in constructing business deals at the highest level, Eamonn discusses the art of negotiating (45:00) and what he finds refreshing about Greta Thunberg in light of recent pressure for greener travel (27:00).
From his pessimism about Brexit (48:00) to the concept of unmanned passenger aeroplanes in the future (50:00), why having a political awareness is important in the aviation business to avoid tripping up (20:00) and much more, this is a thoroughly enjoyable conversation with a true legend of global travel.
To hear all episodes in full each week and to gain access to the entire back-catalogue of over 250 Irishman Abroad episodes that are not available on iTunes for just the price of a pint every month visit www.patreon.com/irishmanabroad.
Supplementary research provided by John Meagher.
You can also gain access to the entire Irishman Abroad archive of episodes through our iPhone and Android Apps. Download the Irishman Abroad Android or iPhone apps for free using the links below.
https://apps.apple.com/ie/app/an-irishman-abroad-by-jarlath-regan/id1101165812
https://play.google.com/store/apps/details?id=irishman.jarlath.com.anirishmanabroad&hl=en_IE
Our charity partner is jigsawonline.ie. In these tricky times, Jigsaw provides a range of resources, advice and care for your people to help them strengthen their mental health and the skills needed to navigate life. Please visit their website and consider making a donation.
For updates on future episodes and live shows follow @jarlath on Twitter, visit www.jigser.com or email the show directly on irishmanabroadpodcast@gmail.com.
Disclaimer: All materials contained within this podcast are copyright protected. Third party reuse and/or quotation in whole or in part is prohibited unless direct credit and/or hyperlink to the Irishman Abroad podcast is clearly and accurately provided.