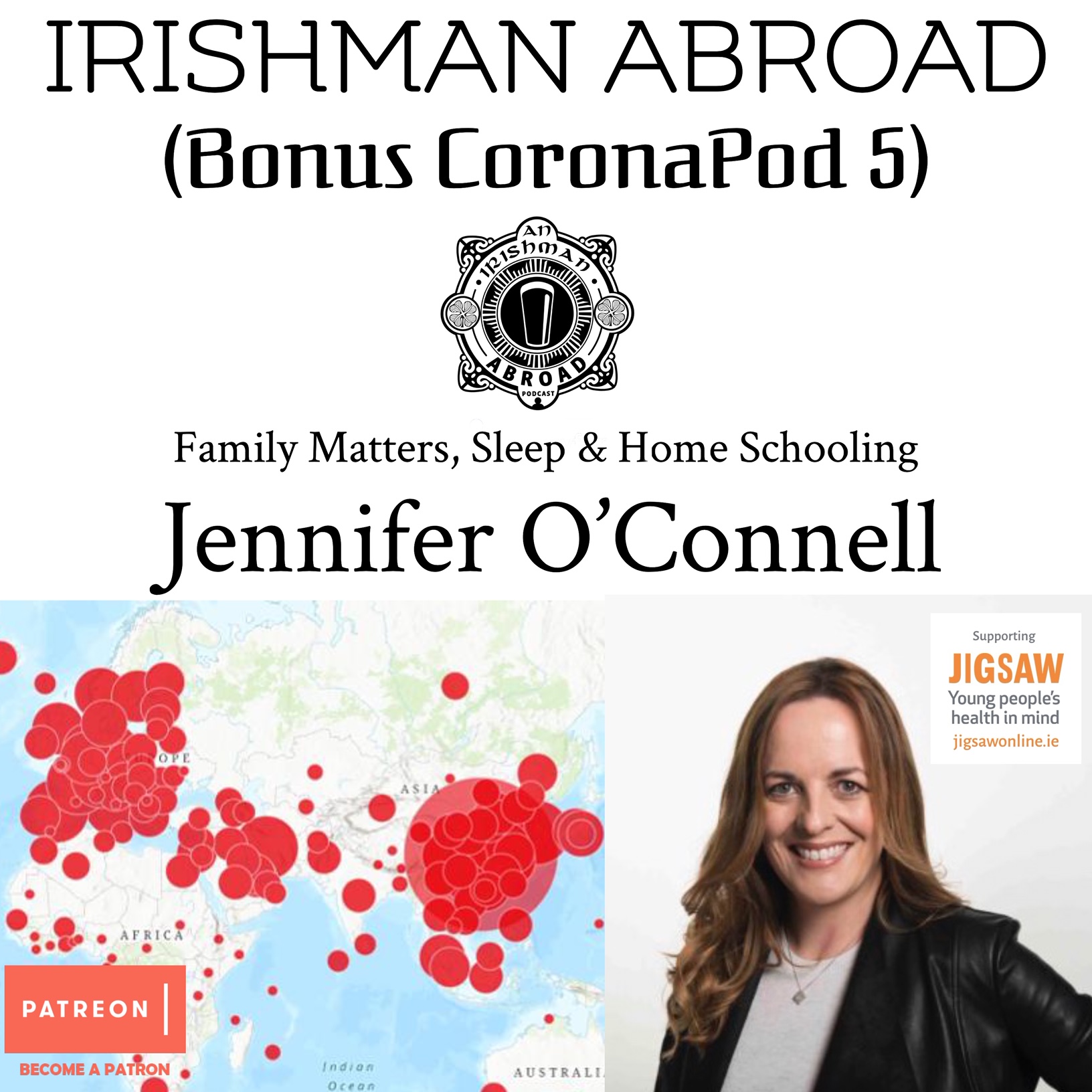 Premium
*To access this episode and to hear all of our episodes in full each week, visit www.patreon.com/irishmanabroad and sign up for just the price of a pint every month. In return, you will gain full access to our entire archive of all of the podcasts we have ever released including - An Irishman In America, Men Behaving Better and An Irishman Behind Bars. If you come over and join in the first two weeks of August 2020, you will be given something very special as an additional thanks that won't disappoint.*
In this fifth instalment of our mid-week coronavirus specials, we are joined by Irish Times columnist Jennifer O'Connell.
Jennifer speaks about the unsettling side to the new Ireland that we have been seeing in recent weeks and, in light of the financial strain that everyone is experiencing, Jennifer also gives some great advice on controlling the controllable.
There's also a fascinating discussion on something a lot of us are struggling with. Jennifer has been involved in researching why a good nights sleep is just as important as washing your hands right now during the pandemic. Her refreshingly positive thoughts on surrendering to the simplicity of our lives at the minute and the insight she gives into how her young family are overcoming the challenges of home-schooling make this a must listen. 
To hear Jennifer's thoughts on the longer-term psychological effects of the pandemic on our children, become a patron of An Irishman Abroad for just the price of a pint on www.patreon.com/irishmanabroad. You will also gain access to the entire back-catalogue of almost 250 Irishman Abroad episodes that are not available on iTunes. 
You can also gain access to the entire Irishman Abroad archive of episodes through our iPhone and Android Apps. Download the Irishman Abroad Android or iPhone apps for free using the links below.
 
https://apps.apple.com/ie/app/an-irishman-abroad-by-jarlath-regan/id1101165812
 
https://play.google.com/store/apps/details?id=irishman.jarlath.com.anirishmanabroad&hl=en_IE
Our charity partner is jigsawonline.ie. In these tricky times, Jigsaw provides a range of resources, advice and care for your people to help them strengthen their mental health and the skills needed to navigate life. Please visit their website and consider making a donation.
 
For updates on future episodes and live shows follow @jarlath on Twitter, visit www.jigser.com or email the show directly on irishmanabroadpodcast@gmail.com.
 
Disclaimer: All materials contained within this podcast are copyright protected. Third party reuse and/or quotation in whole or in part is prohibited unless direct credit and/or hyperlink to the Irishman Abroad podcast is clearly and accurately provided.