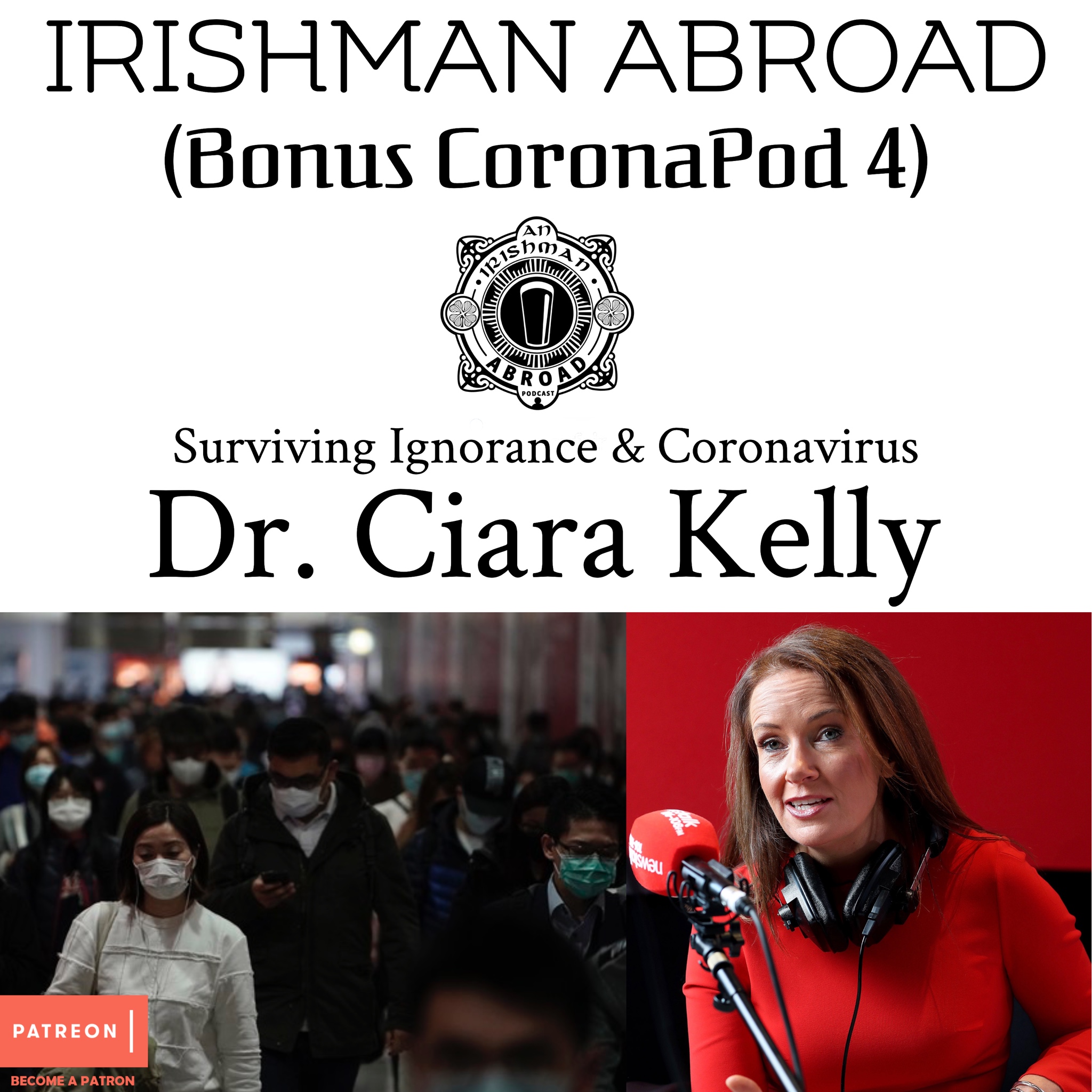 Premium
*To access this episode and to hear all of our episodes in full each week, visit www.patreon.com/irishmanabroad and sign up for just the price of a pint every month. In return, you will gain full access to our entire archive of all of the podcasts we have ever released including - An Irishman In America, Men Behaving Better and An Irishman Behind Bars. If you come over and join in the first two weeks of August 2020, you will be given something very special as an additional thanks that won't disappoint.*
In this fourth instalment of our mid-week coronavirus specials, we are re-joined by Dr. Ciara Kelly from her home as she recovers from contracting the virus. Addressing the ignorance of those involved in coughing in the face of Ireland minister for health, Ciara doesn't hold back. 
Having offered clear advice to the nation on Newstalk and our first Coronapod, she talks about the fear and disbelief that set in when she first realised she had allowed herself to become infected. Ciara now returns to the show from the other side as she hits the recovery phase. With the refreshing honesty that Ciara is known for, she gives her account of her illness and the need to be rational during these difficult times. She speaks to Jarlath about his own specific situation and others with family members who are immunocompromised.
From her blunt opinions of how the UK have mishandled their tackling of the pandemic in 'an absolutely shameful way' to the possible impacts of herd immunity, the stamina required for self-isolation and how she sees the road ahead, this is a truly valuable conversation with one of Ireland's most-loved broadcasters who has a unique perspective on the coronavirus both as a patient and medical professional. 
To gain access to the entire back-catalogue of almost 250 Irishman Abroad episodes that are not available on iTunes, become an Irishman Abroad patron for just the price of a pint every month at www.patreon.com/irishmanabroad
You can also gain access to the entire Irishman Abroad archive of episodes through our iPhone and Android Apps. Download the Irishman Abroad Android or iPhone apps for free using the links below.
 
https://apps.apple.com/ie/app/an-irishman-abroad-by-jarlath-regan/id1101165812
 
https://play.google.com/store/apps/details?id=irishman.jarlath.com.anirishmanabroad&hl=en_IE
 
For updates on future episodes and live shows follow @jarlath on Twitter, visit www.jigser.com or email the show directly on irishmanabroadpodcast@gmail.com.
 
Disclaimer: All materials contained within this podcast are copyright protected. Third party reuse and/or quotation in whole or in part is prohibited unless direct credit and/or hyperlink to the Irishman Abroad podcast is clearly and accurately provided.