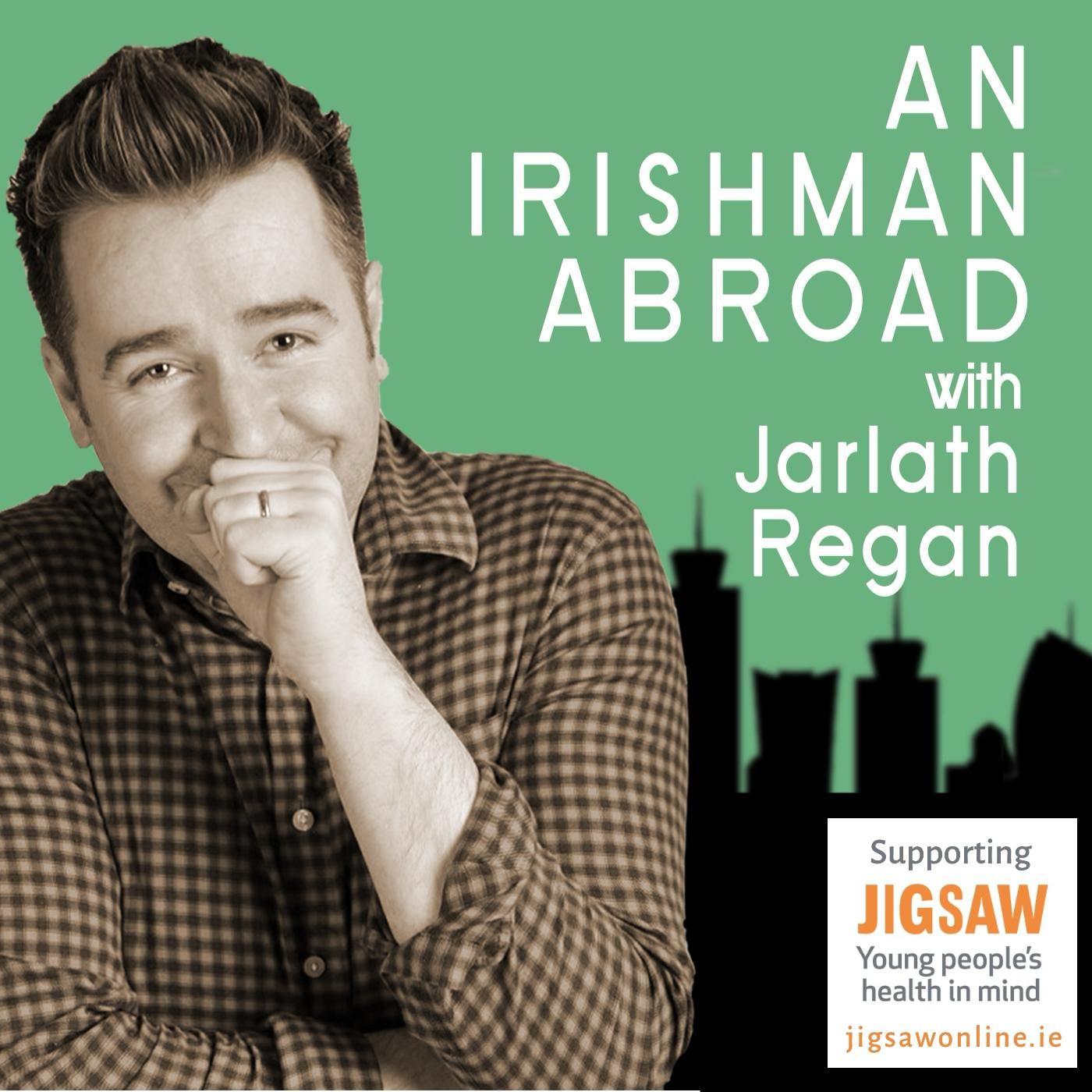 Jarlath Regan presents An Irishman Abroad - 3 diverse weekly podcasts featuring the greatest Irish people of all time talking about their lives, politics, health, wellness and everything in between. Along with regular contributors Sonia O'Sullivan (Irishman Running Abroad) and Marion McKeone (Irishman In America), these podcasts are renowned for the depth and quality of its long form interviews. Previous guests include Brian O'Driscoll, Sir Bob Geldof, Tommy Tiernan, Aisling Bea, Hozier, Sarah Silverman, John C. Reilly, Paul McGrath, Boy George, Paul Mescal, Sharon Horgan, Lisa Hannigan and Dylan Moran. To hear access the full back catalogue of hundreds of interviews dating back to 2013 and to unlock the full version of each weekly episode visit Patreon.com/irishmanabroad. An Irishman Abroad is a winner of iTunes Store's Best New Audio Podcast. The series has been featured in iTunes' "Best of" lists, Soundcloud and Podbean's Most Popular Podcasts lists in multiple years. Recommended by The Guardian, Hot Press, Huffington Post, Telegraph, Times, BBC, RTE and Podfather himself, Marc Maron.
Episodes
Friday Jun 23, 2023
Friday Jun 23, 2023
Will The Rock be a future candidate for President of The United States? Will Trump be convicted and go to jail over the missing files? And who killed Tupac? On this week's podcast, Marion tackles America's most un-answerable questions, from politics to celebrities to celebrities entering politics and back again.
Who will be the next celebrity to take American politics by storm? Marion parses out who could be the next Trump. With former comedian Zelensky running the show in war torn Ukraine and America's history with celebrity presidents, Marion discusses future stars turned global politicians.
What does a competent Government mean for public opinion in the States? Marion discusses how a capable Government is equated with dullness as Biden has led a stable term in the Oval Office. In the aftermath of Trump's disastrous tenure, Marion feels Biden's stable government is not viewed as it probably deserves.
After Trump's indictment will we see prison time for the former President? Marion gives a couple of the most jaw dropping theories doing the rounds on what could happen if he is convicted, including the possibility of a pardon by the current Democratic president!
What issues should Americans be up in arms about? Should Americans seek to abolish the Electoral College and the Senate? Marion breaks down which states are shafted in representation by the current electoral system.
Why do American's have such low sympathy for Biden's embattled son Hunter?
—- Over on Patreon — in the XL edition of the show you can hear:
Is there ever a possibility of assault rifles being taken off the streets in America. Marion brings new hope as California's Governor Gavin Newsom works to pass a new amendment that could alter the iconic second amendment. What do the Democratic Governor's ideas involve and could they come to fruition?
What is the state of abortion law after the Supreme Court's overturning of Roe V Wade? Marion discusses the patchwork quilt of injustice that has taken over the US as women are suffering in restrictive states.  However, even conservative states are fighting back with Kansas holding a referendum on abortion rights that could bring hope in other places in the future.
Are American's worried about AI? More importantly, should they be? Marion and Jarlath chat about AI use in America and what it means for workers across multiple sectors as it has the potential to affect the job security of many, from truck drivers to screen writers. Marion also looks at how it could affect disinformation campaigns in the upcoming election.
Finally, they address the all important mystery of who shot Tupac Shakur on the Vegas strip in 1996? Marion presents an interesting theory as Jarlath discusses the idea of reparations for slavery in America.
Jarlath is also on tour right now. He will be doing his latest standup show in Liverpool, Newcastle, Edinburgh, Glasgow, Armagh, Galway, Cork, Birmingham, London and Tralee to why not grab a ticket while you can. All the other dates have fully sold out! https://linktr.ee/IrishmanAbroad
For double size episodes each week and access to Marion's American scandals series, why not visit www.patreon.com/irishmanabroad today.
If you'd like to contact me, that is easy too. You know what to do!
1. Irishman Abroad Live Line: You can now get in touch with us and feature on our shows by sending your WhatsApp voice note to 00447543122330.
2. Email Jar, Sonia and Marion directly on irishmanabroadpodcast@gmail.com.
For updates on future episodes and live shows follow Jar here on Twitter, visit www.jigser.com or subscribe to the YouTube channel here.
Disclaimer: All materials contained within this podcast are copyright protected. Third party reuse and/or quotation in whole or in part is prohibited unless direct credit and/or hyperlink to the Irishman Abroad podcast is clearly and accurately provided.