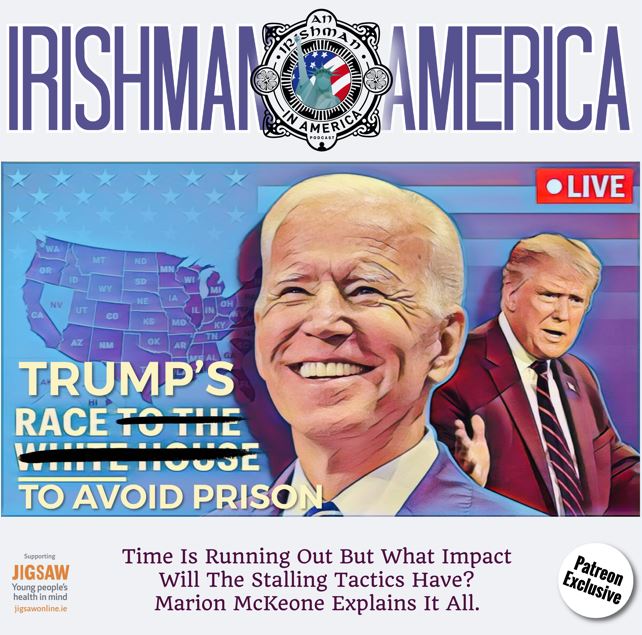 The legal challenges are failing one by one but the news madia are barely covering this news. Why is Trump doing this? Is it because he knows prison time could be on the way or is it to harvest the money he now desperately needs. Reality is dawning and his allies are falling by the wayside. Marion tells us what we are not hearing and few insider titbits she has stumbled across this week. We definitely toasted too early but why are these states taking so long to tally their votes? 
If you have a question for Marion please send it through to irishmanabroadpodcast@gmail.com and Jarlath will do his best to include it in the next episode.
Supplementary research provided by John Meagher.    
To hear this episode in full each week and to gain access to the entire back-catalogue of over 400 Irishman Abroad episodes that are not available on iTunes for just the price of a pint every month visit www.patreon.com/irishmanabroad.
Our charity partner is jigsawonline.ie. In these tricky times, Jigsaw provides a range of resources, advice and care for your people to help them strengthen their mental health and the skills needed to navigate life. Please visit their website and consider making a donation.
For updates on future episodes and live shows follow @jarlath on Twitter, visit www.jigser.com or email the show directly on irishmanabroadpodcast@gmail.com.
Disclaimer: All materials contained within this podcast are copyright protected. Third party reuse and/or quotation in whole or in part is prohibited unless direct credit and/or hyperlink to the Irishman Abroad podcast is clearly and accurately provided.