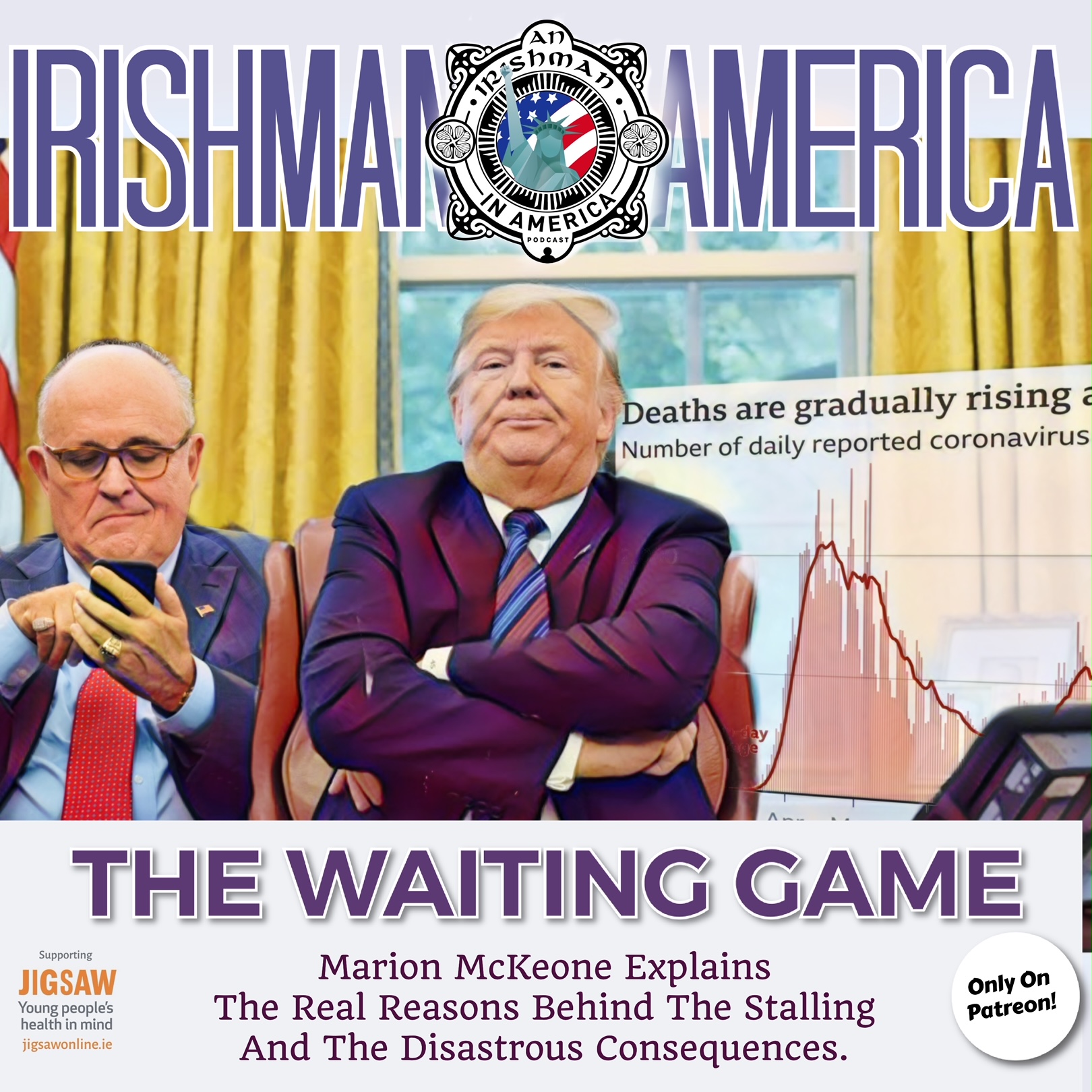 To start with this week Jarlath reveals news of a brand new podcast series from Irishman Abroad exclusively available in full to our Patrons. The questions everyone is asking about the 45th President's bizarre choices include: "What is the plan here?" "Will he delay until January 20th then slink into the shadows?" "What is it all for?" "Why can't the system do anything to stop this from happening and costing more lives?" 
Marion offers some clarity as usual and offers a less well known explanation for the pointless stalling and litigation. Jarlath asks Marion to explain if pulling troops out of hot regions is an attempt to sabotage Biden's Presidency. There's a look at the firing of Christopher Krebs and the mortifying attempt by Rudy Guiliani to be the best little boy in school. Finally Jarlath asks Marion how she is coping and she opens up about some long term side effects of COVID19.
If you have a question for Marion please send it through to irishmanabroadpodcast@gmail.com and Jarlath will do his best to include it in the next episode.
Supplementary research provided by John Meagher.
To hear this episode in full each week and to gain access to the entire back-catalogue of over 400 Irishman Abroad episodes that are not available on iTunes for just the price of a pint every month visit www.patreon.com/irishmanabroad.
Our charity partner is jigsawonline.ie. In these tricky times, Jigsaw provides a range of resources, advice and care for your people to help them strengthen their mental health and the skills needed to navigate life. Please visit their website and consider making a donation.
For updates on future episodes and live shows follow @jarlath on Twitter, visit www.jigser.com or email the show directly on irishmanabroadpodcast@gmail.com.
Disclaimer: All materials contained within this podcast are copyright protected. Third party reuse and/or quotation in whole or in part is prohibited unless direct credit and/or hyperlink to the Irishman Abroad podcast is clearly and accurately provided.